The Studio Tour
Before I share posts about my work I thought it might be best if I show you my studio, mon atelier, my creative space, my nest.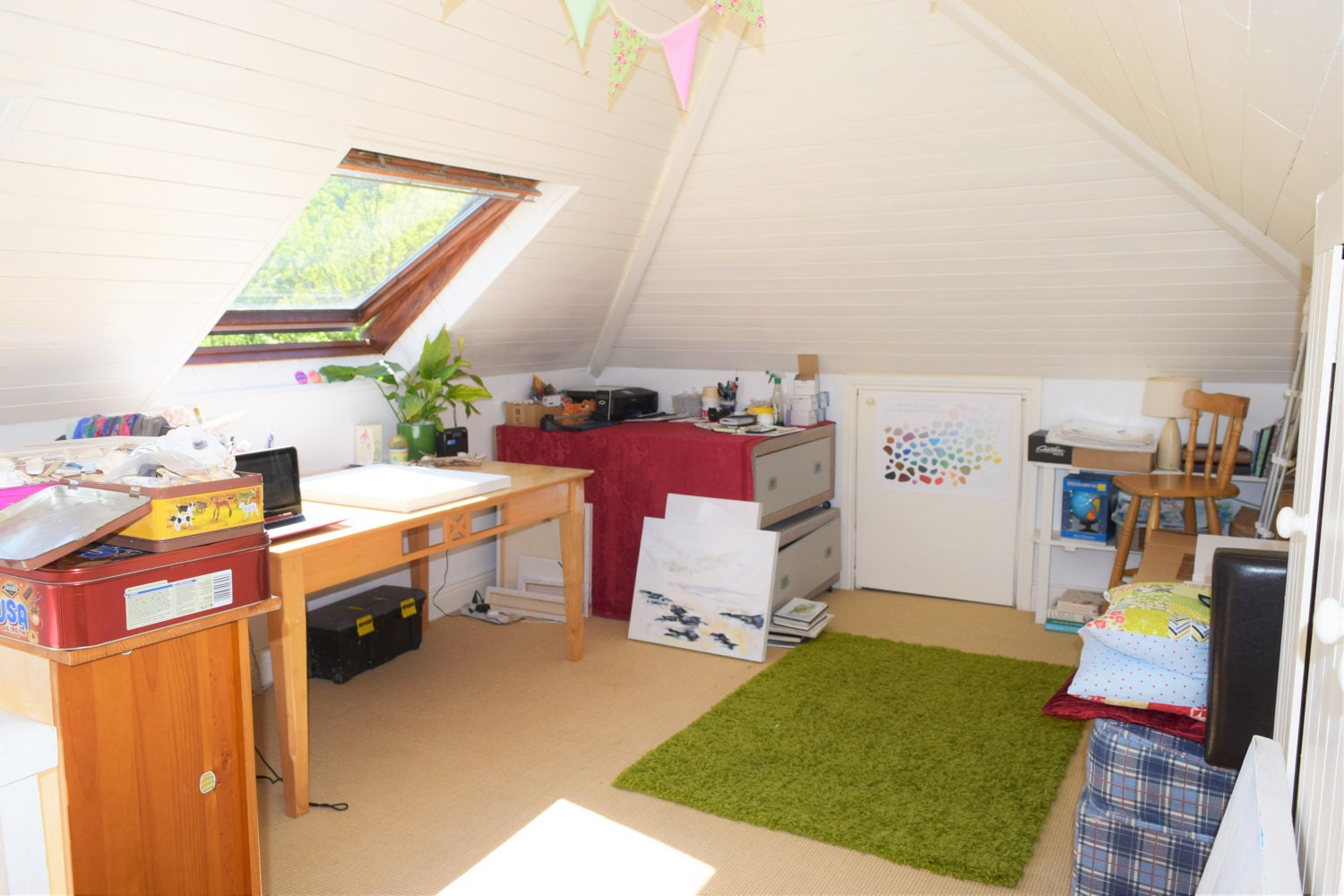 I use the word nest very deliberately as I feel nurtured and protected in this space of mine, snug in my creative cocoon.
The furniture consists of ragtaggle charity shop finds and 2 beds that double up as benches. I used to gaze longingly and enviously at some studio photos on Instagram that had complimentary colour schemes, sleek mood boards and beautiful storage baskets. But to be honest if I had a studio like that I'd probably be too afraid to make a mess. And boy do I make a mess.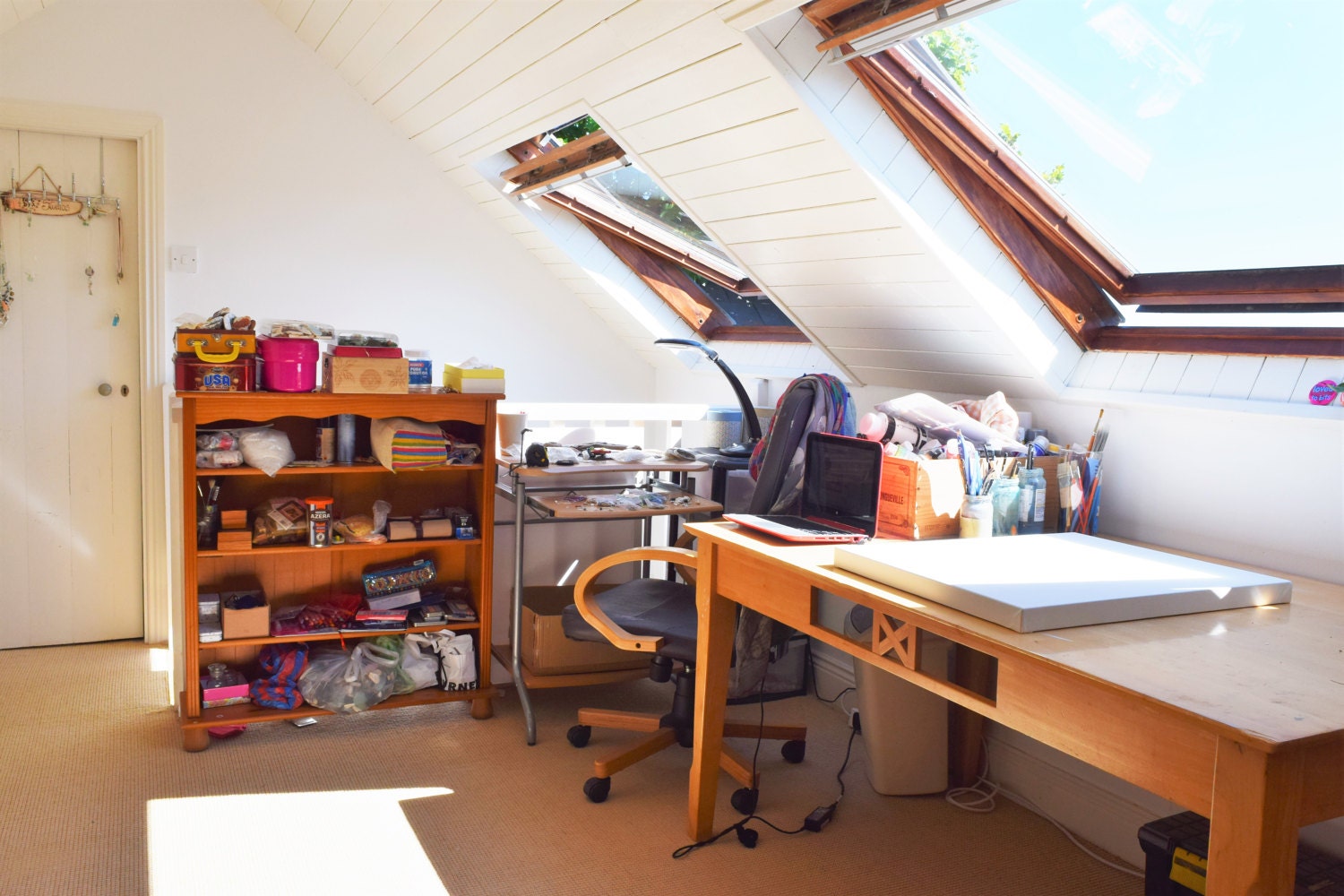 The photos I'm showing you are from a very rare 'tidy five minutes'. This 'tidy five minutes' happens once a month or so (okay, longer) when I become so frustrated with the walls closing in and the mountains of shite on every available horizontal surface that I blast it in a frenzied cleaning spree. And it stays that way for five minutes (approx). Don't worry, you'll see more authentic chaotic photos in future posts. But while we can see what's what, here's a little tour.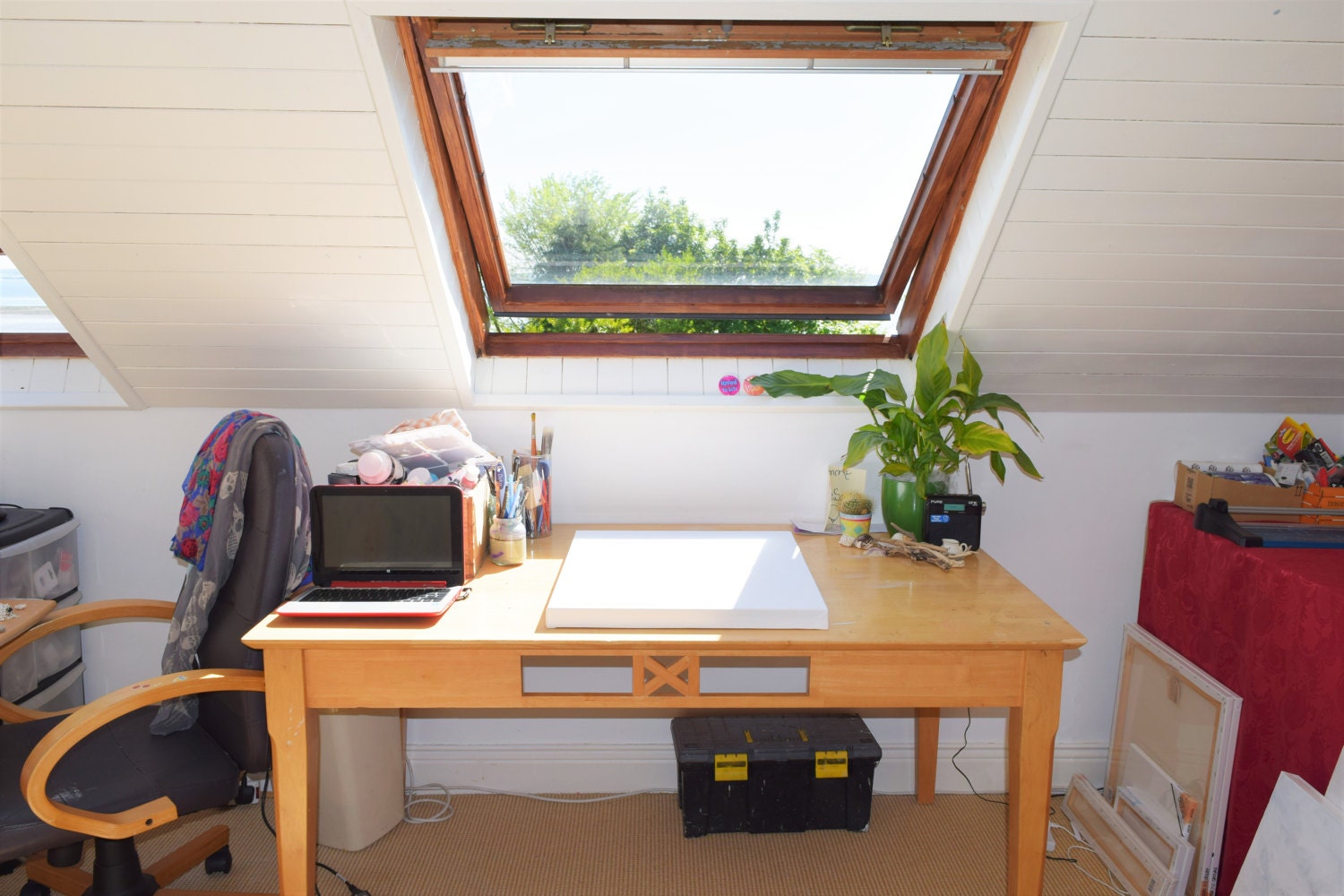 My painting bench is the most prominent work area so we'll start there. On my bench there's an unhappy peace lily (I'm not good with plants), a happier cactus (harder to kill), my radio, handmade cards from my girls, a selection of beach treasures and a sweet teeny tiny jug that a customer once sent me with money in it for an order (best payment method ever!). There is also an old wooden crate full of paints, and jars of brushes. It stands proudly beneath a window which has the most amazing view out across the estuary towards Co. Wexford. The sunrises are sublime. The birdsong is uplifting. The scent of the roses right now is to die for. I do love that my bench is right by my studio windows, they allow me to work in the comfort of my space whilst revelling in the wonders of the outside.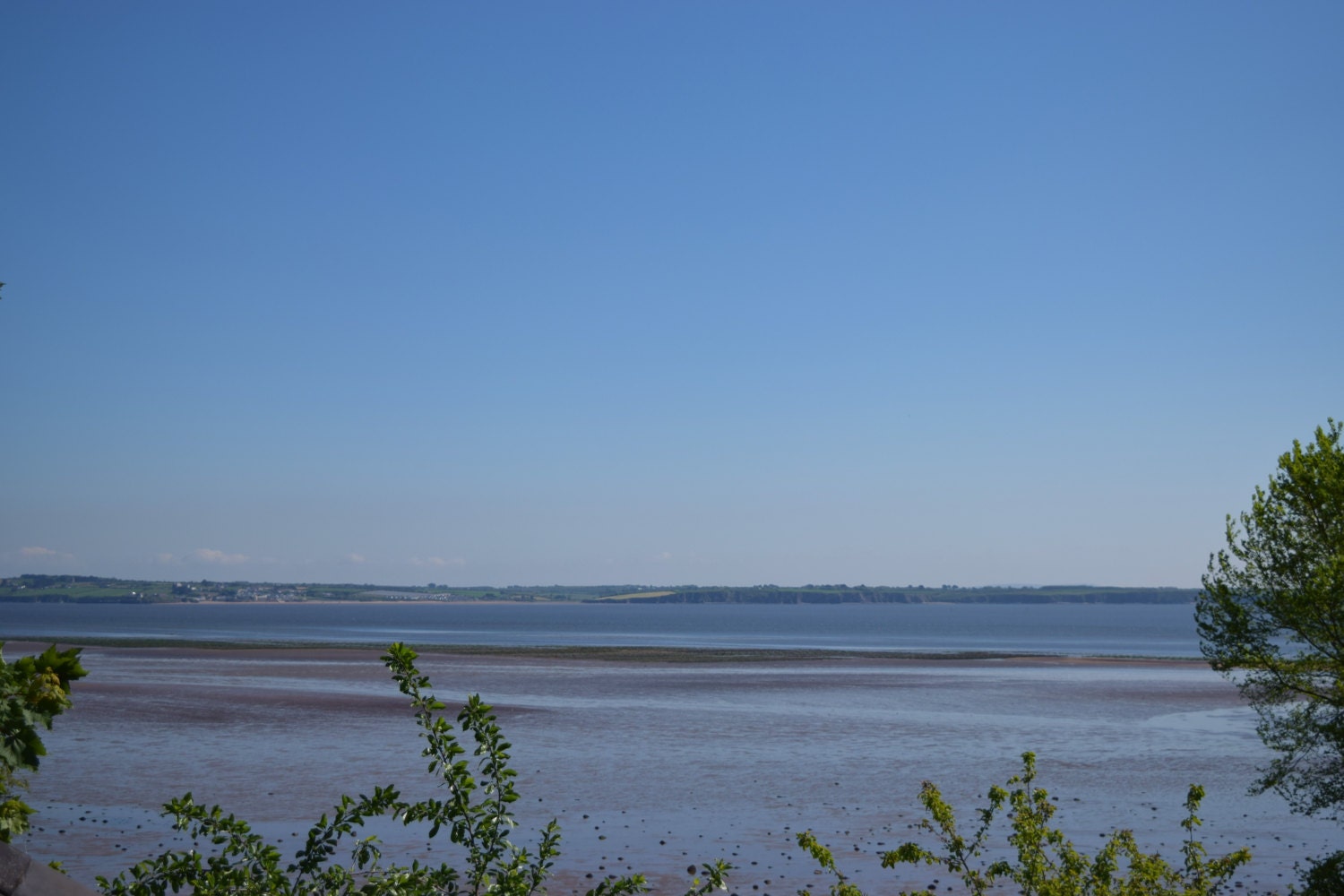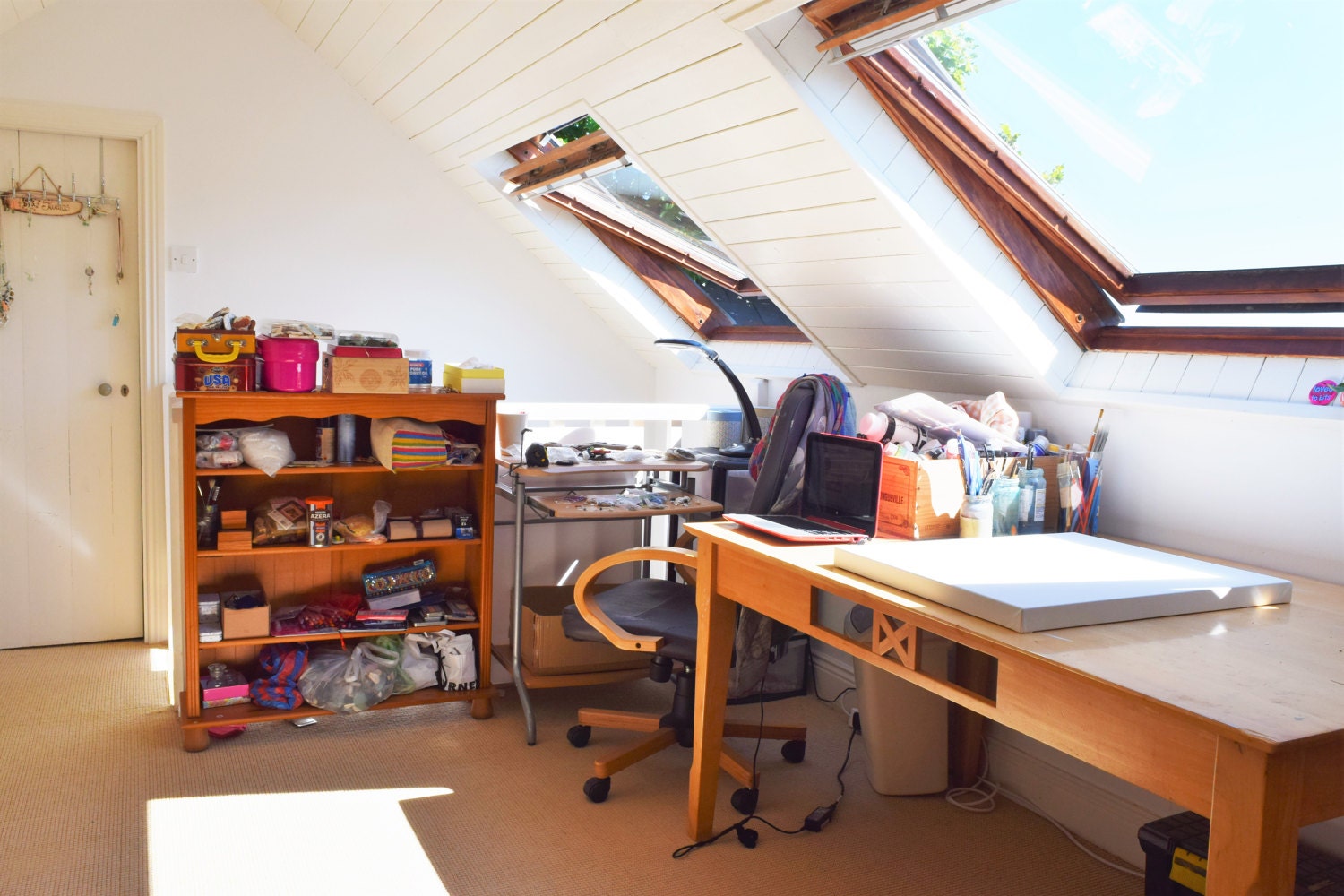 The jewellery bench is a small computer desk that I found in the shed but it does the job. It has a really old clamp that my dad got from a guy he knows who used it to tie fishing flies. I like that. Theres also a plastic drawer unit that is heaving with glass beads, wire, pliers, charms, all sorts of findings. Most of which I'll probably never use but are there  *just in case*.  There's also a swaying, creaking bookcase with loose shelves loaded with random bits that will almost certainly come crashing down any minute now. It probably doesn't help that the bottom shelf is stuffed with heavy bags of unsorted beach treasures while all the sorted ones are hoisted on top. Evidently logic isn't one of my strong points.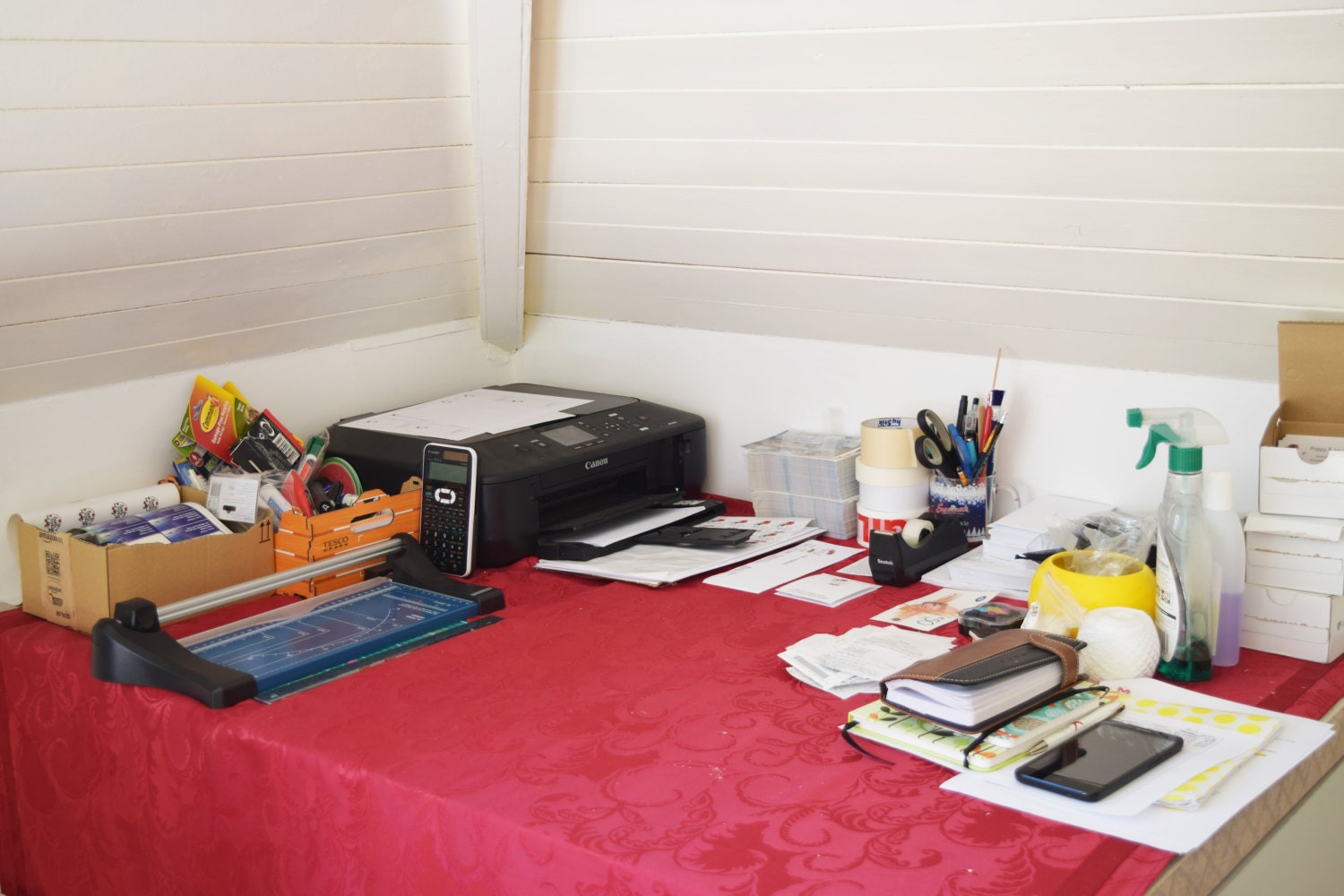 My packing station is, eh, stationed on a fold up bed covered in a red damask table cloth. Here is where my lazy printer, blunt paper trimmer and all my office supplies reside. I frame my small paintings here and pack up all of your lovely orders. Next to that hangs my much loved Carter Sea Glass Colour & Rarity Guide. A must for any beachcombing enthusiast. In the corner are some shelves with sketchbooks (yay!) and folders of disorganised accounting stuff (boo!). Also a bed/bench that is used as an overflow for the painting section. The old school built in cottage cupboards hold canvases, photography equipment and the strangest assortment of stuff that I can't bear to part with (papier mache birdhouses, glitter, plates etc. You know, the usual).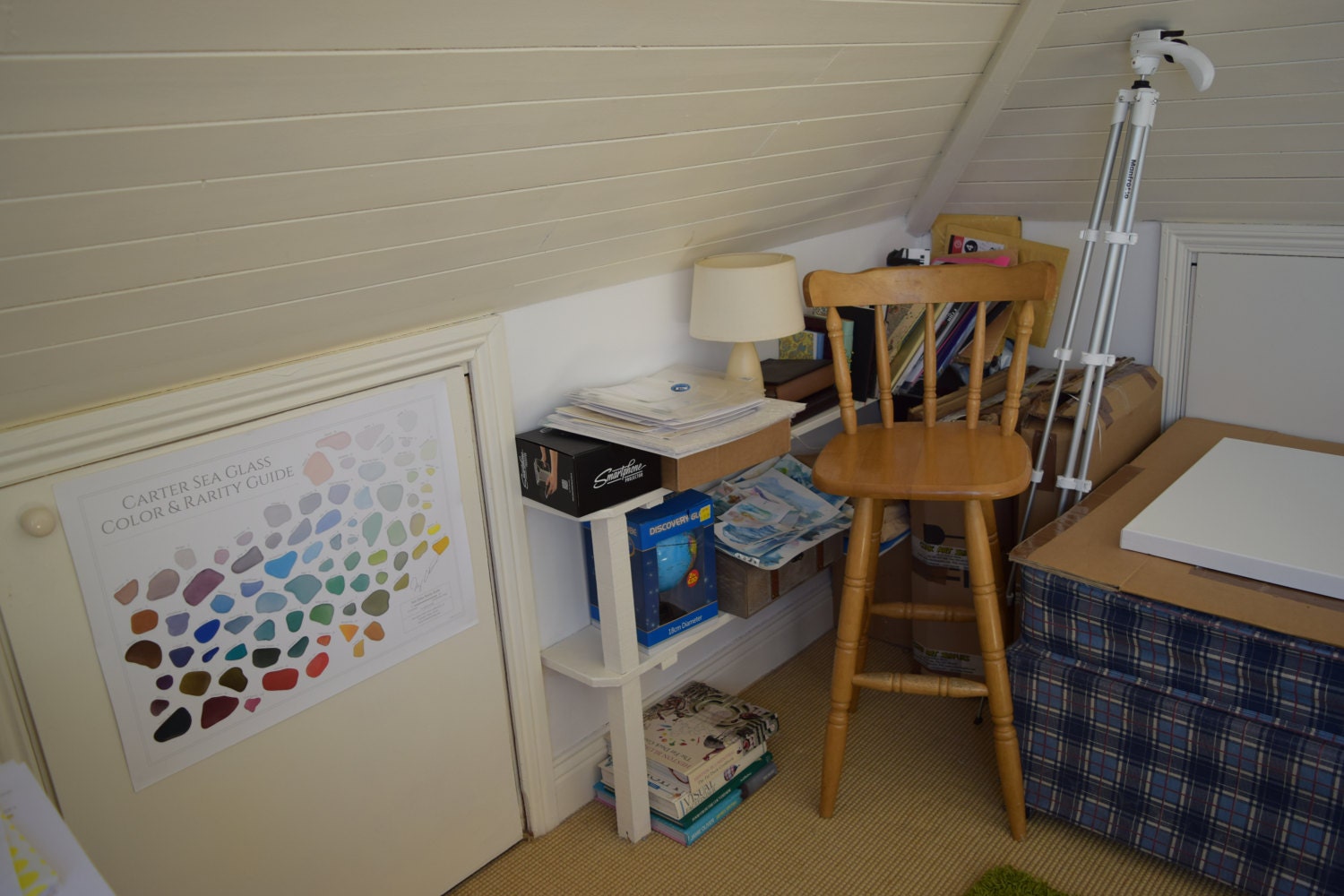 The studio is scorchingly hot in the Summer and freezing cold in the Winter. And there's usually toys on the floor, and my good water based markers too (my kids like to 'tattoo' themselves). I also have a resident spider who I surprisingly haven't named yet, your suggestions are most welcome.
I think that pretty much covers the tour! I hope you've enjoyed this insight into my favourite room in the house.  If you'd like to be kept up to date with what I create here, check out my shop here, my Facebook page or my Instagram.
Until next time, Emer x